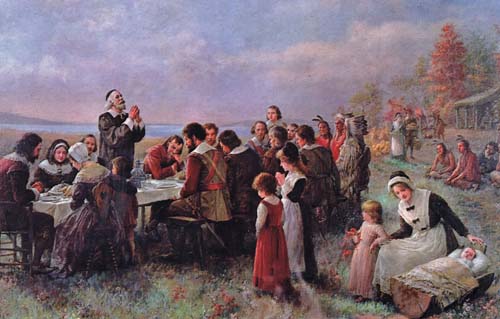 The True Story of Thanksgiving.

As interpreted by Wayne Rice

'Bout 400 years ago, ovah in Plymouth theah, sum feriners beached their boat and set out to settle in these heah pahts. Couldn'ta picked a worse time t' show up. Wintah was jist startin' up, they'd missed theyah landfall by hundreds and hundreds of miles, no one would evah know wayah they went oft ta; they were in a fix. Furst yeah was a tough'n; half of 'em died; not enough food, n' poorly livin' conditions n' all. The locals round 'bout took theyah time about helpin' out, but they came round and brought some food 'n advice on how t' get by all right. Couple of locals, Samoset n' Squanto, took pity on 'em an hepped 'em out with local secrets, like potato chips n' lobstah. That second wintah, things went bettah so come Fall, they had a three day pahty with the locals. Lots of vittles n' the like; they say that heah in New England, on Thanksgiving Day no birds fly,

because on that day in Novembah there were also no birds in the sky, 'cause the locals shot 'em all out of the sky n' et 'em. Theyah was venison, and eel, berries and clams t' et. they had contests of shootin, n' strength, 'n what not. They got along pretty well, I heah. Too hahd to git through the wintah then t' bother with makin extra trouble. But theyah's another story that goes; the first "Thanksgiving" was in 1623; seems that theyah troubles didn't stop just because

of a big meal. The wintahs were severe n' the other seasons were all drouted out. Hahdly any rain a'tall. The Saints and the Strangahs, as they called themselves, held a joint pray-in and aftah days and days of it, the drought broke, and they had a big pahty n' called Thanksgivin Day. Most wintahs in New Englan are hahd, but those brave Pilgrims had some of the hahdest, all alone in a new world. That furst spirit of cooperation and integration is still to be found heah. New Englandahs see to a balance in their lives that was passed down from those original Pilgrims; that havin' a healthy dose of self-interest still leaves room to

keep a eye towards the welfare of others, through a personal sense of responsibility. Nothin' showy or over done, just a straight-forward 'howyadoin'?" is all it takes. Still have Thanksgiving though; course, usually everybody brings somthin' n' uncle Teddy falls asleep on the couch in front of the football game on the HDTV, but otherwise it's pretty much the same on Thanksgivin' Day down heah in old New England.